Bad Penny
Accomplished loud rock band BAD PENNY, who are in the same vein as Cry Wolf and Yellowhouse.
• Guitar & Vocals – Jason Stretch
• Bass Guitar & Vocals – Paul(Smiffy)Smith
• Drums – Rob Owens – the "Mighty Mammal"
All three of these guys come from a background of fine pedigree including such bands as:
RELOAD,
NETHERWORLD,
ROUGH JUSTICE
&
"Rock Legends" BAD II THE BONE!!!
"Very loud and worth everyone's money, Bad Penny … one of the best high energy rock trios on the circuit today" (100% Biker magazine)
Be Sharp
"A superb three piece that sound more like five, great songs, brilliant playing, concert sound. Don't miss them !!"
Be Sharp is a steaming guitar based trio that performs a diverse and interesting choice of songs. They cover a lot of different styles, all the way from Jimi Hendrix through to Steely Dan, and they also include some excellent original material. The band is widely known for its great dynamics and powerful delivery.
Coming from a background of touring and recording work as sidemen for several well known artists, the unit was formed in the early '90s to enable them to play the music they loved – all of the time! Since then the band has continually delighted audiences, both with their live shows and their quality recordings.
Ducks Deluxe
Official Biography
British pub rockers Ducks Deluxe were purely and simply a reaction. With the mid-'70s English pop scene dominated by glitter/glam rockers like Gary Glitter and Sweet or blustery, chops-heavy art rockers like Yes, Jethro Tull, and Genesis, Ducks Deluxe breezed in like a cross between the Ramones and the Rolling Stones.
Indeed, Mick Jagger and Keith Richards came to some of their early gigs and even offered the band a deal on their own label. They were flattered but didnt think they were ready.
Ed Hudson Band
A powerful, experienced, 3-piece classic rock band that plays the music they love… AC/DC, Free, Deep Purple, Thin Lizzy, Lynyrd Skynyrd, ZZ Top, etc.
Ed Hudson was the lead singer and guitarist in renowned London rockers BAD II THE BONE, playing nearly 1000 gigs until their split in 2007. Prior to that he played with Red Road, Good Company and The Flame Tattoo, touring all over the UK and recording with many different artists.
Bass player and backing vocalist Pete Armatage fronted Three State Blues (Locomoto Records) and is a veteran of the music scene having played with Dumpys Rusty Nuts, Wolfie Witcher, National Flag and many other bands since the 1970's-the golden decade of rock!
Stu Emms takes the drum stool, a versatile, experienced and dynamic player. He has come into his own with the band, after regularly attending the jam nights we run. Stu has played with many different bands and artists from all over the UK.
The Ed Hudson Band is serious about music and gigging and enjoy playing live. Rock n' roll is their life!
Edge of Reason
Edge Of Reason is a Surrey based Rock group that play a style of music we call "Kick assed chilled out rock. Think U2, The Eagles and Pink Floyd gently simmering for 20 yrs then brought to the boil with a chill out ibiza chilli sauce". They accomplish this with a mix of well known cover versions, a Pink Floyd Tribute and high quality very well produced original material.
The band consists of:
Vince Barnes – Rhythm Guitar and Vocals
Mike Vishnick – Drums
Huw Pryce – Bass Guitar
Chas Lacey – Lead guitar
With a single and the album "I Have A Dream" due for release in June 2011, they are planning a UK tour in Summer 2011 with the purpose of promoting their Album and title track – an uplifting Rock song that takes you on a journey of the bands dream.
Playing in a somewhat different format they have perfected a show that wows audiences across the country. Starting off with cover versions through the ages just to get the crowd started, they move into a Pink Floyd Tribute – in the larger shows this will include lighting and stage effects to deliver a true Pink Floyd Experience.
The final part they play their own music. They have original material with a range of Rock Anthems, Some great rock sounds and Rock Ballads such as "Don't Say Goodbye", – a haunting ballad with real bite that wont fail to move you, through to "Crazy Lady" – A real rollercoaster ride, the gentle undulating start followed by that happy sensation as you ride the curves just before the chorus sends you into a long exhilarating spiral into your inner self before dramatically pulling you over crest of the hill hitting your body with its full force, that will rock you, roll you and hit you with a jackhammer before letting you down gently at the other end.
The band pride themselves on their musicianship, stagecraft, lingering guitar solos that tease and please and most importantly – entertain the audiences who never fail to get up and dance. You will not be disappointed.
They create a buzz wherever we go, due to the music we play and our on stage antics. Frontman Vince, is often seen dancing with the crowd mid song, Mike has a few crazy moments especially during his drum solo for "I Have A Dream".
Their primary aim – whether to 10 or 10,000 people – is to ensure the audience leave with smiles on their faces having witnessed a bit of magic.
"Come along and take away a bit of magic"
LEECH
LEECH predominately play covers, from REM, BEATLES, NIRVANA, THE WHO, GREEN DAY , so all types of music genres are covered so that everyone can enjoy the music and no one feels left out, however LEECH occasionally perform a few original LEECH songs which are always applauded as there is something very distinctive and catchy about them! 2004 was a fantastic year for LEECH having played over 60 gigs in the London area and a six-night stint in Nice , France ! 2005 is set to be more of a success than last year with more gigs in the UK and abroad and for the first time a full studio album of original material!
Micky Moody
Michael Joseph "Micky" Moody (born 30 August 1950) is an English guitarist, and a former member of the rock bands Juicy Lucy and Whitesnake. He was also a founder-member of Snafu. Together with his former Whitesnake colleagues Bernie Marsden and Neil Murray, he has founded several bands (The Snakes, Company of Snakes and M3 Classic Whitesnake with which they mainly performed early Whitesnake songs. More recently, he has been working with Murray, guitarist Laurie Wisefield, drummer Harry James, singer Chris Ousey and keyboard player Michael Bramwell in Monsters of British Rock.
More details from wikipedia
Papa George (Blues)

"There's one! That's what I say to myself when I meet a musician – anywhere – any age – who is a powerful Deep Blues player.  It happened again tonight – Papa George was playing solo and is a spectacular blues artist.  He's got power and nuance, he's a master entertainer and pure player.  I've become a big fan of his music."
Bob Margolin, February 2010
"Papa George is generally regarded as one of the major electric blues musicians playing on the British Blues scene today.  Although inspired by the southern style of country blues that grew out of the Mississippi Delta and Louisiana his sounds and techniques also lean heavily towards the influence of the Chicago blues sounds reminiscent of Muddy Waters."
Art & Lifestyle, Staines, UK, April 2009
'Presenting a rich mixture of classics and self-penned numbers, they set about wowing the crowd with a display of first-class musicianship. Papa George pulled some beautiful sounds from his Amistar tri-cone guitar, which he used for most of the gig. Fine examples of this instrument's versatility were "Blues With A Feeling", with its rolling railroad feel, and "The Sun Don't Shine" in which the combination of slow poignant guitar and Glen's subtle harp playing was superb."
Lewis A Harris The Dorset Blues Society. 8 March 2008.
Willy Finlayson
Willy Finlayson
"Finlayson plays guitar and sings like God" says former Mean Fiddler promoter Pete Feenstra. Sentiments echoed by the music press including blues magazine Blueprint who said of Finlayson "this man should be a household name". This charismatic performer, who fronted seminal bands Bees Make Honey and Meal Ticket, is still steamrollering audiences with THAT voice.
Willy has never been short of fine performers to join him on stage and in the studio. His CD 'From Snake Ranch to Helicon Mountain' features performances from Jools Holland, Paul Carrack, Micky Moody, Nigel Portman Smith, Pino Paladino, Charlie Morgan, Gilson Lavis, Mick Rogers, Papa George and Matt Irving.
Willy Finlayson has a world-class voice. He has an enviable vocal range that can both tug the heart and blow your head off. Although greatly influenced by the Blues, he has the ability to make the most of any rock or pop song and he is an emotive soul singer. A very experienced performer, Finlayson tailors his performance to get the best out of an audience no matter what age they are or musical interests they have. His major musical influences include Ray Charles, Donny Hathaway and Robbie Robertson of The Band.
Willy Finlayson was born in Penicuik, near Edinburgh. A talented footballer, at age 17 he tried out twice for Falkirk in Scotland and had a month's trial with Newcastle United. But a knee injury prevented him from taking the football further. Football's loss turned out to be Music's gain.
He started performing at the age of 13 – singing with musicians much older than himself in the Scottish band The Dukes. Willy has lived in London for over 30 years.
In the mid 80s he had hit single in Europe with the soulful ballad "On The Air Tonight", which was featured in the film "Nightmare on Elm Street II".
More recently he recorded a track for the Sharon Stone movie "Basic Instinct II".
Willy is a prolific songwriter. His studio album "From Snake Ranch to Helicon Mountain" was created with fellow Scot, Matt Irving (Chris Rea, Squeeze, Paul Young). It is a mix of 'radio friendly' rock, blues and ballads. Five out of nine tracks are written by Finlayson. It features classy performances from Jools Holland, Paul Carrack (Mike & The Mechanics, Ace), Micky Moody (Whitesnake) and Mick Rodgers (Manfred Mann).
Willy is also a talented lead guitarist, comfortably holding his own with some of England's finest guitarists … world-acclaimed Micky Moody and Mick Rodgers have been frequent members of Finlayson's 20-year-old band "The Hurters".
Willy has toured all over Europe, South America and Scandinavia with bands Writing On the Wall – where they represented England at The Rio Song Festival in Rio de Janeiro – Bees Make Honey and Meal Ticket who opened for Ry Cooder, Bob Seger & The Silver Bullet Band and Frankie Miller.
You can see WILLY FINLAYSON AND THE HURTERS in and around London with a variety of band members including Nigel Portman Smith, Micky Moody, Alan Coulter, Matt Irving, Matt Cheadle and Dave Colquehoun. HALF A MEAL TICKET with Steve Simpson and Nigel Portman Smith perform regularly every last Sunday afternoon in the month at The Red Lion, Linkfield Road, Isleworth when they play many of the original Meal Ticket numbers.
Zoot Money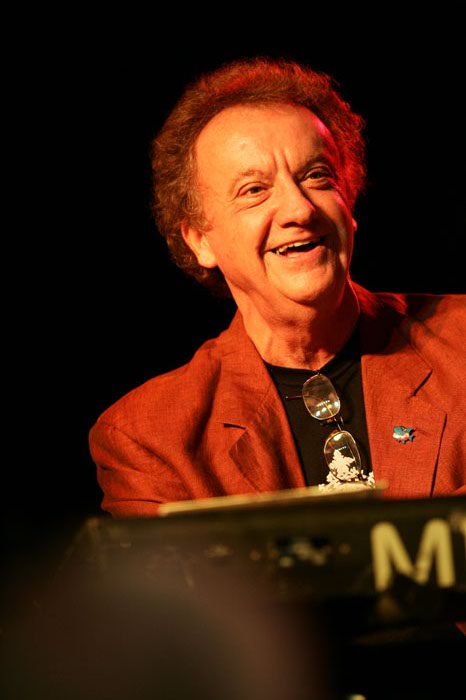 Quite simply the biggest character on the British rhythm and blues scene since the early 1960s, Zoot Money was born George Bruno Money on 17 July 1942 in Bournemouth, Dorset, England. Part of a large and noisy family, both his parents were Italian immigrants, although his father's family (really called Money) were originally English. More